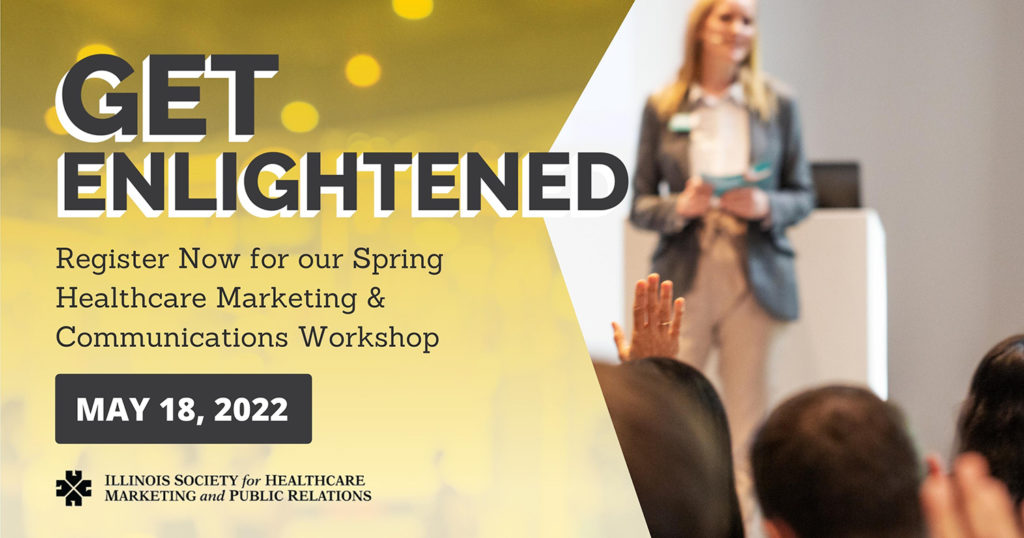 Click HERE to register!
You must be a member to attend this conference. Now is the perfect time to renew!
Get enlightened! Spring Healthcare Marketing & Communications Workshop
May 18, 2022
8:30 a.m. – 4 p.m.
Erin's Pavilion at Southwinds Park, Springfield, Ill.
Cost: $49 per individual
This in-person, one-day educational workshop for ISHMPR members is geared towards our Rural and Critical Access Hospital membership. Please join us for a day of networking, learning and idea sharing.
We have invited marketing and thought leaders from all over the State of Illinois to share their insights into how your organization can stand out in today's healthcare market.
Main Session topic: "Finding Your Key Light"
Jeanette Jurczyk, Key Light Consulting
Whether you are speaking to a single client or a room of hundreds, you are performing. Jenette will share tools and techniques performers use to overcome nerves and speak with confidence. Be better prepared for your next interview, team meeting or presentation, by finding your "Key Light."
Jenette is a motivational speaker, trainer and storytelling coach through her company, Key Light Consulting. She has a BFA and MBA from the University of Illinois and worked in New York and Los Angeles as a performer, director, producer and writer. She also has over 15 years in property management and commercial real estate. She now uses her background in theatre and her business experience to teach professionals how to shine in any presentation or performance setting. She loves working with women to find their voice and develop their personal stories for the stage, inspiring deeper human connections and helping others find their "Key Light." She is the National Director of The She Said Project, producing live shows called "That's What She Said" and host of The She Said Project Podcast. She is a past president of the Junior League of Champaign-Urbana and currently serves as President of The Family Room, the nonprofit she co-founded to provide resources and comfort to foster children and families in her community. She resides in Champaign with her rocket scientist husband and 2 young daughters.
Digital Storytelling
Amy Yaeger VP of Strategic Services, Legato Healthcare Marketing
Amy brings a wealth of leadership and marketing experience as a marketing director and clinic director for a rural health care system in Black River Falls, Wisconsin. She is experienced in all facets of marketing and community relations. As a clinic director, she implemented the Patient-Centered Medical Home model of care. She is driven by outcomes and measurable results through her experience in National Baldrige criteria and performance measures in Customer Focus. She earned her bachelor's degree from UW-Eau Claire in Marketing and her master's degree in Administration from St. Mary's University. She is a member of the Medical Group Management Association (MGMA) and Society for Health Care Strategy & Market Development (SHSMD). She has earned recognition from the Rural Wisconsin Health Cooperative, Wisconsin Healthcare Public Relations and Marketing Society, Aster Awards, and Studer Group.
Recruitment & Retention
Mike Chapman, SVP – Client Services, Springboard Brand & Creative Strategy
Mike is a 30-year marketing veteran dedicated to brand development through research, positioning, strategy, and creative execution. He has led the strategy and creative development for healthcare clients nationwide. These campaigns have established new and revived existing brands, driven service line growth, and won numerous healthcare marketing awards. In addition, Mike has presented at national conferences such as SHSMD, Hospital Marketing National, and AAMSE, and at numerous state hospital association conferences, including ISHMPR. Mike is also a contributor to Springboard's Hospital Branding Blog.
Re-engaging with Patients after COVID-19, McDaniels Healthcare Marketing
Randy McDaniels, President
Randy McDaniels is President at McDaniels Healthcare Marketing. With over 35 years of experience in guiding hospitals, health systems and physician practices, Randy leads a team of experts in delivering powerful solutions to create market success for clients of his firm. Randy's areas of expertise include overall strategy, traditional and digital marketing, public relations, talent recruitment and development, and fundraising. Randy has a marketing degree from Bradley University and is currently a member and past president of ISHMPR and a member of SHSMD
Rapid Response Marketing
Andrea Brandon, Director Marketing and Communications, OSF Healthcare
As Director of Marketing and Communications for the OSF HealthCare Western Region, Andrea develops and executes strategy for several rural health hospitals, in addition to ambulatory sites in each market. She has demonstrated success in health care, advertising and media industries with much of her career spent in agencies marketing national brands and their individual locations across a variety of industry verticals. Andrea lead content marketing, social media and digital design for health care clients including Hospital for Special Surgery in and around New York and MedStar Health in the D.C. metro area. She earned a B.S. in mass communications with a focus in broadcasting and journalism from Illinois State University. Andrea is a contributing writer to Franchising.com and Franchise Update Magazine.