6 Things to Start Doing to Improve Your Online Reputation
December 16, 2020 - 6 minutes read
Becoming a brand superstar takes a bit more effort than before. Your online reputation matters to patients, but it can seem daunting to tackle by yourself. So, grab your notebook and pen and let's learn how to best manage your online reputation.
Start with some research.

Find any online reviews that are out there and start taking notes. You will want to look at Google My Business, Yelp, Better Business Bureau, and any website focused on the healthcare industry, such as Vitals or Healthgrades. There are plenty more. However, be mindful of trusting seemingly random websites with few followers or a low-quality content — reviews from these sites should be taken with a grain of salt.
Claim your online directory listings.
This is especially important for Google My Business. When you claim your listings, you can add robust descriptions, photos, and more. Plus, including key information like a direct link to your website, maps to your physical locations, and click-to-call phone numbers will help people find your hospital or clinic faster.
Pro-Tip: Don't forget to save all your logins and passwords!
Respond to EVERY review.

A canned (pre-written) response simply does not cut it anymore. Be as personal as you can with each and every patient. Address any issues that you can and try to avoid sounding defensive in a review.
Pro-Tip: Sometimes you may even be able to get a review taken down. Visit Google Support for instructions on how to flag an inappropriate review.
Ask for reviews!
Even negative reviews aren't the end of the world. A LOT of negative reviews will need addressing, but you will not make every patient happy. Breathe. People know there will always be that one patient that no one can make happy. Learning how to best handle it makes all the difference! A bad review might also give a potential new patient an idea of "worst-case scenario" so they can prepare.

For example, a patient might leave a review about an appointment being canceled. This inconvenience could then lead you to contact them directly about setting up a new appointment as soon as possible. This easy fix could result in expectations being set properly by a negative review. All negative reviews don't turn out this well. The best way to combat negative reviews is to provide excellent patient care, make a conscious effort to respond to negative reviews and resolve their complaints, and ask more of your satisfied patients to post a review.
Prompts help make it happen.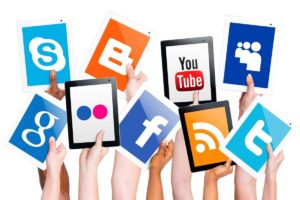 The easier you make it on a patient to write a review for you, the more likely you'll receive one. Asking for reviews for every platform can be a difficult task, so focus on one or two at a time. This can be as easy as an email after an appointment or a reminder through Facebook Messenger. Posters and small cards can also be helpful. Be careful about trying pay-to-play where you offer incentives for good reviews.
Tune into your socials.
Once you mastered all of these, the most helpful thing to do is to listen — socially listen. Social listening is the act of tuning into conversations happening on your chosen social platforms. When used correctly, social listening can give you the opportunity to offer your expertise or opinion at no cost. This also expands your digital footprint and eventually your online reputation as a whole, while giving you an idea of the overall customer sentiment.

Services like Social Mention and others can be help monitor chatter going on that you don't know about — because many people talk to others about a service or specific location without that conversation taking place on your professional channels. Reputation management is more important than ever today. The "new normal" means people will be conducting more online research for the foreseeable future. It's time to see what people are saying about your organization.
Written by McDaniels Healthcare Marketing. McDaniels Healthcare Marketing /McD Digital:  We are always thinking of unique ways to move our clients forward.  With over 52 years of experience, we specialize in community hospitals, health systems and physician practices.  Our clients take advantage of our extensive understanding of how to attract the right patients while developing strategies to motivate referring physicians, donors and other audiences.  Our interactive division offers a very robust content management system and modules specifically for hospitals as well as a complete suite of digital services from SEO and social media to PPC and YouTube video development.